Dear Taytum,
I met the man you'll call your dad at a time when I thought I'd never find someone to actually love me, for me. The second part of that first sentence is my biggest fear for you. That you'll think you'll never find someone to love you, for you. Heartache is painful. And it will be the one thing I cannot put a band-aid on. And as your momma, I know this time will come.
I'm writing you, twelve months from the day I married your daddy, to tell you that love, above all else, will be the greatest thing you find in your life. And I pray every day that you will marry someone who will show you that. Just like your daddy showed me.
People will tell you all different things about what you should look for in someone. About relationships. About men. About women. And mostly about love. I will, too. I'm doing it right now. The truth is, I don't care who you marry, but I need that person to love you and to care for you and to cherish you. Cherish you. A long time ago walking into the grocery store, paining my own father (your grandpa!) with my current relationship failures, he said to me "When someone loves you he'll look at you like your magic. You'll be able to see it in his eyes" It made me laugh a little. I was far from magic, or so I thought. And then your dad and I made you. And I started seeing the magic. Feeling the magic. Little girl, I am made of magic, and you are too. And your dad? He is too. And yes, Taytum, you should always be loved that way.
You were hand crafted by a God who has spent the last several months knitting you in my womb and to Him, and to us, you are exactly who you are meant to be. And there is nothing you need to change about yourself, and I want you to know a love like that during your time on earth.
When I met your dad, from the very first day, I was overwhelmed by his confidence. One thing you'll learn about your momma is that confidence, sometimes in the smallest of tasks, is something she can sometimes lack. And with that being said, its okay to have faults. We all have them. They don't define you.
When your old enough your dad will make fun of me and you'll probably laugh. He really is funny. Even if it is at my expense. And he'll tell you all about my fear of walking into stores alone and calling to order pizza, but thats for another day. And for the record? Your dad, for the rest of our lives, will always call to order the pizza. And I know its not diamonds, but it is a daily reminder of his love for me. And it is the sweetest. And my anxious heart needs him.
And I need him and love him today more than I needed him the first day I met him. And more than the first time we said those three words. And even more than I did on the day he asked me to marry him, and yes, even more than I did on our wedding day. I've learned, through meeting your daddy, that you cannot cap off love. Each and every day is a new day to love more and need more and learn more and through learning new things about the person you're with, you're lead back to falling even more in love and the love just keeps growing. More and more and more.
You have a wonderful example of a real man in your life. It's one of the things I am most proud of. I'm so proud to be his. And you will be so proud to be his, too. You're never going to question his love for you, just like I never question his love for me. He is wonderful like that. And together, you and I, will never have to wonder what it is to be loved just the way we are, because your daddy is the best at loving. The best.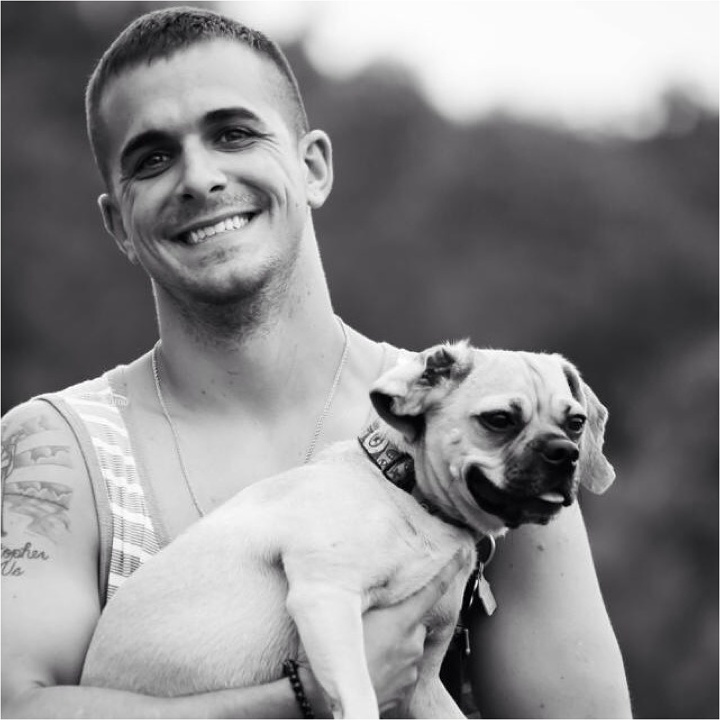 So Taytum, meet your father. The best example of love I will ever be able to show you. The man who forgives. The man who forgives the small things and the big things. The man who forgives everything. Like the garage door being left open on accident, and when I sometimes add too much fish food to his tank. The man who forgives me when I lose my glasses for the umpteenth million time or when I leave them on the floor and the dog eats them ( x 4). The man who forgives me for leaving empty boxes of granola bars in the cabinet or when I scratch the hard wood floor on accident with my editing chair. The man who forgives me for having to wash and re wash and re wash the laundry because I forget to throw it in the drier. And the man who one time, after only a few weeks of knowing one another, forgave our puggle (your brother!) for ripping up his carpet. Side note : I knew I loved him then. And I knew then that I wanted to spend a lifetime together, making it up to him, even though he'd never ever let me. Because he'd tell me I didn't need to. Because he'd tell me "it's just a carpet." Meet the man who sings in the car, off key, and doesn't know a single correct lyric. And guess what? He sings anyway. The man who scarfs down his cereal before appointments so that we have ten extra minutes to stop and get me coffee. The man who comes to appointments with me. Meet the man who puts me first. And puts Jobe first. And will put you first, too. The man who would rather be tired than me be tired. Who would rather be sad than me be sad. And who would rather eat ice cream (which he can't stand) than have me eat ice cream alone. The man who brings me up the last cold water in the fridge and says "you have it, I'm not thirsty." The man who comes home at the crack of dawn after being awake for 16 hours and lets the dog out so I can sleep in. And the man who, when it's pouring rain and I need someone to hold an umbrella over my head so my camera gear and I stay dry, willingly gets soaked.
And together, through soaked clothes and ripped carpets, we will continue on this journey. Learning about one another and finding room in our stretched out hearts to love each other more. And you, little girl, will join us on it too. And we'll guide you to what I hope is a story like ours. And your daddy will love you like he loves me, without conditions, and you'll always always feel it. Just like I do. Every day we're together.



Happy anniversary Chris. You are without a doubt, the best friend I've ever had. And I will love you more with every passing year. And I will never take a single part of you for granted.
And in case you ever forget, I want you to live forever. Underneath the sky so blue